Article top
Diwali came in a day early for Team India fans when India beat Pakistan in one of the most remarkable T20 match ever been played. The happiness didn't spare Indian living away from home. Sundar Pichai, the CEO of Google, expressed his best wishes for Diwali on Monday. He noted that he will be watching India's dramatic T20 World Cup triumph against Pakistan to mark the occasion.
INDIA VS PAK: The Epic Battle
Virat Kohli lit up the Melbourne Cricket Ground (MCG) with a scorching innings on Sunday (October 23). Bringing Diwali a little early for millions of Indians around the world as he helped India defeat Pakistan by four wickets in the T20 World Cup 2022. In order to assist India defeat the Babar Azam-led team in a last-ball thriller, Kohli hammered an incredible unbeaten 82 of 53 balls.
Sundar Pichai's Diwali Celebration
In addition to the millions of cricket fans across the world, Google CEO Sundar Pichai was riveted to his television to see another chasing masterpiece from Virat Kohli. Kohli went absolutely nuts in the final three overs to help India score 48 runs and win the frantic run-chase.
However, Sundar's tweet commemorating Diwali with the final three overs of the cricket match between India and Pakistan did not sit well with Pakistani trolls, who flocked to the Twitter timeline of the Google CEO to poke fun at him. Sundar Pichai received a message from a Pakistani user asking him to watch the first three overs.
In the tweet Sundar had posted "Happy Diwali! Hope everyone celebrating has a great time with your friends and family. I celebrated by watching the last three overs again today, what a game and performance #Diwali #TeamIndia #T20WC2022,"
Pakistan Fan's Failed Attempt to Troll Pichai
Pakistan fans, affected by the bitter moment tried to troll the 'Big Man'. He said, "You should watch 1st 3 Overs"
Sundar Pichai responded with an outstanding retort, though. The Google CEO mocked that user by writing, "Did that too:) what a spell from Bhuvi and Arshdeep." Pichai was referring to the match's opening three overs. During which Arshdeep bowled two blistering overs that resulted in the dismissal of Mohammed Rizwan and Pakistani captain Babar Azam.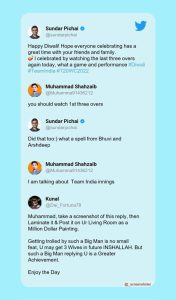 Indian fans too responded by calling it the biggest achievement of Trollers life when Sundar Pichai mocked him.
At 31/4 and with four batters out of the batting order, India was in trouble in the 160-run chase. However, Kohli and Pandya worked together to resuscitate India's hopes and win the game. In the end, Kohli triumphed over Pakistan's bowling attack as India scored 16 runs off the final six deliveries. It was one of their most memorable victories over Pakistan in recent memory.
Matched Content Ad